Hello folks, this is our last full day and what a day we've had. There was much banter at breakfast about playing football this morning with the local Gambian youth football team. We all had a hearty meal and headed over the dusty red road towards the football pitch. Locals had been gathering there since 8 am excited at the prospect of a TTV match. There was much discussion and hanging around. Mixed teams were picked and off we ran into the morning heat and dust. Delighted woops as joy announced goal after goal and Team TTV won! Little games were played with the children and spectators at the side, under a large mango tree.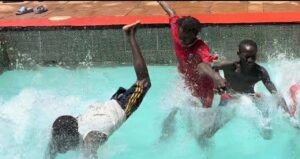 Virtually everyone jumped in the pool to cool off and there was much splashing and laughing for hours. Finally the Gambian partners admitted they needed a break from the pool and we had quiet time before lunch. We ate well and then headed to the teaching Hub, where 13 laptop computers were laid out ready for a workshop. Jay and Ben had prepared in UK a presentation on word and power point for our partners. Judging the abilities Jay and Ben gave excellent instructions and delivered a very successful lesson.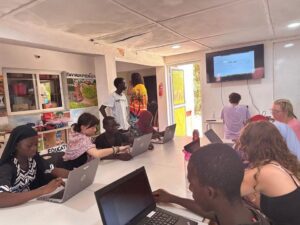 The next part of the day was swimming again and chatting with our partners. Mini interviews were held in the shadow of a beautiful pink Bougainvillia tree. By 6.30 it was time for a group certificate ceremony. We listened to a couple of speeches and each TTV Ambassador received a certificate of graduation from the programme. After supper, where we all sat on one long table and intermingled with each other,we watched a fantastic acrobatic performance which combined loud drumming frenzied dancing, flips, cartwheels and lifts and boys balancing on each others' heads!